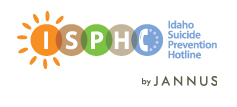 The Idaho Suicide Prevention Hotline provides crisis intervention, emotional support, problem solving, and referrals to local resources for persons at risk for suicide and for those concerned about them.
Get Help
When a person calls or texts the Idaho Suicide Prevention Hotline at 208-398-4357, a Volunteer Phone Worker will offer emotional support, assessment of suicide risk, and crisis intervention to those in imminent danger. The Volunteer Phone Worker provides linkages to local mental health and treatment providers and other services, empowering callers to look at options and make their own decisions. All volunteers for the Idaho Suicide Prevention Hotline are trained in the ASIST (Applied Suicide Intervention Skills Training) model.
Privacy
All calls are confidential and anonymous. The Hotline will ask for permission before giving information to other organizations that may be able to provide assistance. The Hotline complies with the federal privacy requirements of the Health Information Privacy Portability Act (HIPPA) as is required of all health and mental health services providers. If, however, they believe that there is imminent risk of suicide, they may contact 9-1-1 to ask them to initiate a rescue effort.
If you have any questions or concerns about your privacy, please contact the Hotline at 208-258-6990.
The Idaho Suicide Prevention Hotline's website is at: https://www.idahosuicideprevention.org/