Welcome to What the Health! - a weekly newsletter that focuses on topical wellbeing subjects regarding City of Boise employees. Each newsletter is short, sweet and to the point. What the Health! Will inform you, challenge you and question you in hopes of providing an avenue to enhanced wellbeing.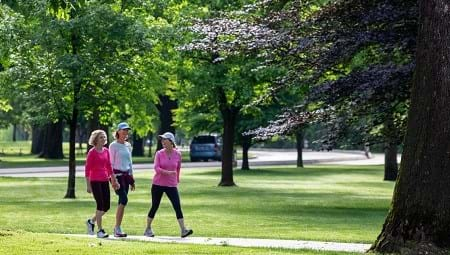 Get Your Step On
June 16, 2021
Do you sometimes have trouble focusing during work? Or find yourself cranking out long hours? Work productivity is essential, and not just because it helps your workplace. It also generally corresponds to your mental wellbeing.
This week's newsletter is all about the Virgin Pulse Step Challenge. In this challenge, you will rack up steps while learning tips on improving and feeling better about your work. Your teams have been pre-decided, and you will be working with those in your department to take as many steps as you can until June 28th.
Sign up here: Virgin Pulse - Featured Challenge
The winning department's top 25 percent of participants will win a 250 point Virgin Pulse voucher.
June is also the final month of the quarter, which means you have two more weeks to get as many points as possible to earn your quarterly incentive bonus.
Get to steppin',
Cory Budak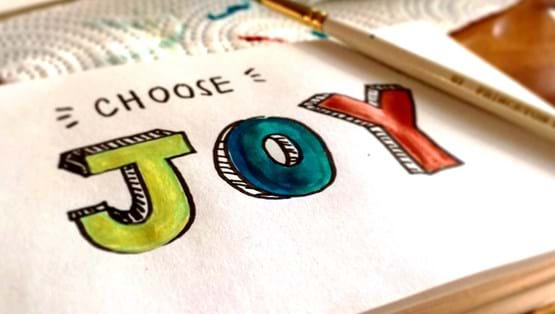 The Power of a Smile
June 2, 2021
Your smile is powerful, and the past year has made it a hard thing to share. Our June Wheel of Wellbeing topic is joy, and there is no better way to spread joy than by smiling.
There are 19 different types of smiles, and smiling has been proven to boost your mood and relieve stress. This week's newsletter is a two-part challenge. The first part of the challenge is to smile and laugh as much as possible. Our faces have been hidden for almost 14 months, and as protocols change, we have more and more opportunities to flash our pearly whites.
The second part of the challenge is to identify the joy in your life.
To identify joy, you must think about it. Take note when you feel it and when you smile. Joy is everywhere in our lives, and the more we look for it, the more of it we will find.
Along with joy the month of June also brings a Virgin Pulse step challenge. This challenge is all about helping you learn new tricks and tips to stay productive at work.
Be sure to register as soon as possible and encourage your office peers to do the same. You will need their help.
CONTEST RULES
Dates
This challenge starts on June 14, 12 am local time and ends on Jun 28, 11:59 pm local time.
The last chance to upload your steps is Jun 30, 11:59 pm local time. Steps uploaded after this date won't be counted in the final results. Try uploading daily—it's more fun!
Teams
Teams are formed automatically in this challenge.
You'll be assigned to a team with others from your office location.
Scores
Team scores are based on the average number of steps per team member.
The more steps you and your teammates get, the better your score.
To contribute to your team score, upload steps from a fitness tracker or app.
You can get credit for a maximum of 30,000 steps per day (so aim high)!
The team with the highest average at the end of the challenge wins!
Stages
Throughout the challenge, you will work to unlock stages.
If you unlock all the stages before the challenge ends, keep walking. Another team could still pass you on the Challenge Leaderboard.
Good to Know
If you leave the challenge, you have until Jun 13, 11:59 pm local time to rejoin. If you don't rejoin by this date, you won't participate in this challenge.
Participant names and step counts may be shared with other challenge participants and administrators.
You have up to 14 days to go back and enter steps before the upload deadline. Skip the heartache—join before the challenge starts and track daily!
I look forward to seeing smiling faces all month long.
Stay Well,
Cory Budak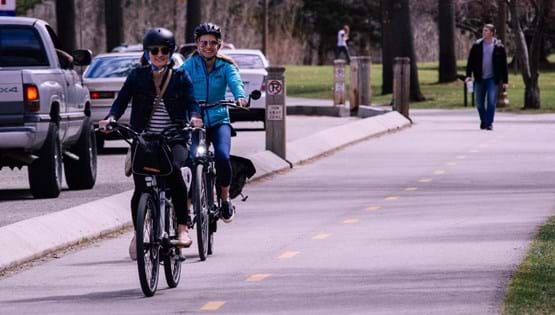 Wheel of Wellbeing Topic: Energy
May 18, 2021
Last week we discussed how a quality night's sleep can impact your energy levels. The next step in our energy quest is physical activity. Did you know that low-intensity activities done consistently throughout your day and week can boost your energy levels by 20%, and even better, can lower your perceived fatigue by 60%?
Here are a few quick tips to increase your physical activity.
Walk on your work breaks
Get up and move every hour
Take the stairs
Park farther away
These small tips can make a big difference. The next time you feel the need to refill your coffee cup, try one of these instead.
With that, I would like to highlight a fantastic opportunity to get in some extra physical activity.
On Friday, May 21, "Bike There," wherever that may be. Bike to work, yes. Bike with friends, yes. Bike to an errand, yes. Bike around your neighborhood and back to your home, yes. Any bike, anywhere, it all counts.
ACHD Commuteride will be hosting a bike pop-up at Heron Park, Garden City, with scones & muffins from Wildflower and coffee from Flying M.  Dirt Dart Mobile Bike Mechanic will provide quick bike safety tune-ups from 7:00 am to 9:00 am.
Share photos of solo or family ride on social media using #BoiseBikeWeek and experience the joy of biking together even as we keep our distance.
If you have any questions, please do not hesitate to ask.
Stay Well,
Cory Budak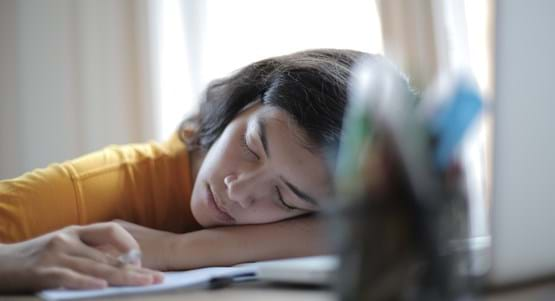 Getting Sleep Back on Track
May 13, 2021
Energy is something our culture seems to be in constant search of and is our Wheel of Wellbeing topic of the month. We define energy as the experience of having enough mental and physical energy to do the things you want and need to do. Each week I will be discussing ways in which you can boost your energy in a healthy way.
The first and most crucial aspect of feeling energized is sleep. As City of Boise employees, you have access to tools that can help get your sleep back on track. Virgin Pulse, Whil., and the employee assistance program all provide resources to help improve your sleep.
Located within Virgin Pulse are 'Journeys.' Journeys are daily self-guided courses to help build healthy habits. There are currently 5 different sleep Journeys available. Each takes ten days to complete.
Click here to access them: Virgin Pulse - Journeys
Whil. Has an entire category dedicated to sleep. This includes an advanced 4-week insomnia program.
Check it out here: Sleep (whil.com)
The employee assistance program bpahealth.com/eap-search can be the most potent tool in helping with our sleep. With the EAP, you have access to 6 sessions with a certified health professional. You can even search for a provider that specifies sleep disorders.
Improving our sleep is the most impactful way to increase our energy and meet the demands of our day.
Be sure to stay tuned for more ways to improve our energy this month.
Stay Well,
Cory Budak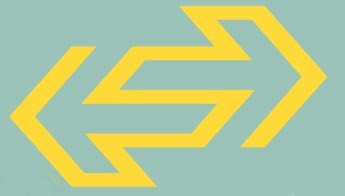 BEAT Program and May in Motion.
April 28, 2021
Each year, City of Boise employees are encouraged to participate in our Virgin Pulse program and are asked to select topics that most interest them. Virgin Pulse categorizes and ranks these topics to help create a platform catered to a great user experience for you.
Over the last few years, two of the highest ranked topics have been getting active and trying something new. The month of May is going to provide you the opportunity to do both.
May in Motion (MIM) is a community-wide annual campaign that encourages the use of alternative transportation. Alternative transportation includes; walking, biking, carpooling, vanpooling, teleworking, or public transit. I want to encourage every employee to make an effort to try something new when it comes to getting to and from work.
There are many positives outcomes of smart commuting, saving money, getting active, and reducing your carbon footprint are just a few. Participating in MIM will also provide the opportunity to compete against your peers and win prizes. To join the challenges and win prizes, you must first create a profile at Share the Ride Idaho. Once your profile is created, you can join the challenges and check out the rewards. If you already have an account set up, click the links below to join the challenges.
The Department Challenge (May 1 – May 31)

Create or join your department's team and battle other departments for glory. This is a month-long May in Motion challenge to see which department can log the most alternative transportation trips.

The Participation Challenge (May 1 – May 15)

For two weeks, you are challenged to participate in as many alternative transportation forms as possible. You will be awarded one entry into the prize raffle for every different type of transportation you try. (Up to 6 entries)

The Points Challenge (May 16 – May 31)

For two weeks, you are challenged to earn as many points as possible. Each form of transportation has a different point value.
MIM is a great way to introduce yourself to the world of alternative transportation. Still, it is only a tiny part of the overall goal of consistently using alternative transportation. The Boise Employee Alternative Transportation program or BEAT is here for you to utilize all year.
Here are a few commuting ideas and incentives:
Riding the Bus
Your employee ID badge allows employees to ride any ValleyRide bus free of charge.
Biking and Walking
Participation using these modes runs April-October. Employees who Bike or Walk to work at least 60 percent of the days worked are eligible for an annual $40 credit to a local shop.
Vanpool
The city provides employees who use ACHD's CommuterRide vanpool a $24 monthly subsidy towards a Club Red membership. ACHD provides the first month free and discount coupons worth $20 for use on the 2nd, 3rd, and 4th months of vanpooling. Club Red membership is on a month-to-month basis and includes several benefits and discounts. Additionally, vanpool drivers are offered a $40 rider recruitment bonus for recruiting friends and co-workers.
Those interested in joining a vanpool can find more info at www.commuteride.com or call the ACHD Commuteride office at (208) 345-7665.
If you have any questions regarding MIM or the BEAT program, please reach out to Cbudak@cityofboise.org
Stay Well,
Cory Budak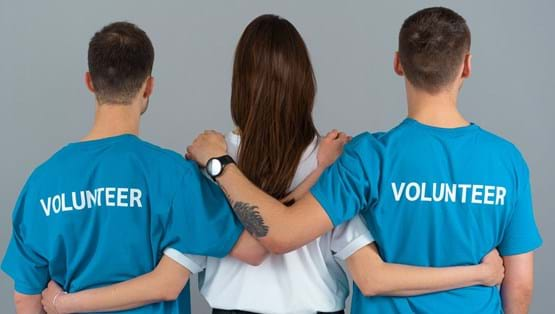 Month of Meaning
April 14, 2021
Are you looking for meaning or purpose? Well, for some, giving back to the community can provide just that. April 198h-24th is National Volunteer Week, and I would like to encourage your participation.
The City of Boise provides many opportunities to get involved. If you're interested, please check out these available options.
Suppose you are looking for opportunities to volunteer outside of the City of Boise organization. In that case, VolunteerMatch is a great place to find opportunities. Here are the ten most popular volunteer organizations in Boise on VolunteerMatch.
Along the same lines of volunteering, donating can also provide meaning and aid in our wellbeing. Currently, the Red Cross is in critical need of blood donations. You can schedule an appointment at a convenient location by visiting RedCross.org.
There are many ways to give back to our community, it just takes a little effort to find them. This effort can provide a great sense of purpose and meaning, knowing you have helped make a difference in the place we call home.
Stay well,
Cory Budak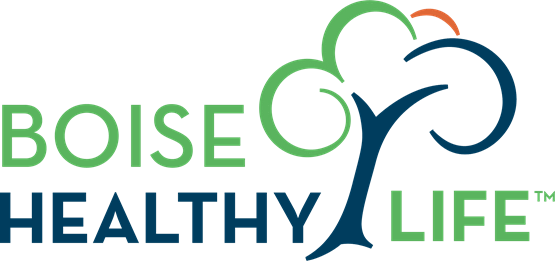 Meaningful Resources and Information
April 7, 2021
This week I have decided to highlight some wellbeing program offerings that are happening this month.
BPA-Health
Steps to Financial Security Online Seminar, 4/20
Virgin Pulse
Little Crusader Challenge, 4/12 - 4/18
Wellness Credit Payday, 4/21
BEAT Program
May in Motion Team Recruitment – All April
Email Cbudak@cityofboise.org to join or for more information.
Whil.
Please reach out if you have any questions!
Stay well,
Cory Budak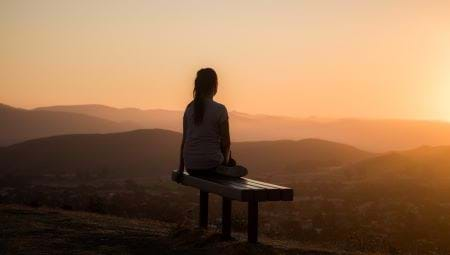 Finding Meaning
March 30, 2021
Now that we have marched through madness, we get to experience one of the most incredible months of the year, especially here in Boise. April is a month of open windows and fresh air, bringing us outside and into the sunlight. April is also a great month to dive into our next Wheel of Wellbeing Topic: Meaning.
Meaning is the experience of feeling purpose and belonging in life: you know that your work and actions matter.
Here at the City of Boise, we work to benefit others in our community. It is our collective goal to create the most incredible city to live in, and some might say we are doing too good of a job. With that said, it may not always feel so amazing. Our jobs are demanding and challenging, but we must continue to find meaning in the work so our wellbeing can continue to enhance.
Meaning is entirely personal and is not something that someone can provide for you. You must actively pursue it. With that in mind, this month offers an opportunity for you to do just that. Leadership Pulse is returning this month and is a chance to reflect on your experience of leadership in the organization and allow for upward feedback to supervisors in your department. If you are struggling to find meaning in your role, utilize this tool to the fullest and help build a better workplace for you and your peers.
Meaningful experiences and relationships outside of work have just as much impact on our feelings of wellbeing. As we continue to move forward through the pandemic, opportunities to participate in social activities safely will increase. One such opportunity is adult volleyball offered by the Parks and Rec department. You can build a team or look to join one that is in need. Either way, it is sure to be a blast.
Registration is now open and will continue until April 9th. Please follow the link below to register or access more information.
Adult Volleyball | City of Boise
If you are unsure how to find meaning in your work or life, please reach out, and I will be happy to assist in any way I can.
Stay Well,
Cory Budak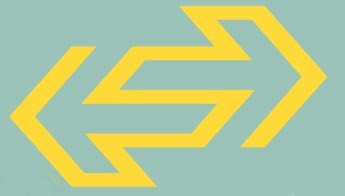 Closing out Connection
March 23, 2021
As March comes to a close, so does our emphasis on connection, but that doesn't mean we stop connecting. And if you're looking for a way to connect, I have an excellent opportunity for you.
The opportunity is May in Motion. Each year, during May, the City of Boise participates in this community-wide effort to encourage smart commuting, helping make the Treasure Valley a better place to live and work. I'll be leading the city's effort but am looking to build a team.
Not only is May in Motion a great chance to connect with your community, but it's also an excellent introduction to the Boise Employee Alternative Transportation Program (BEAT). The BEAT program encourages participation in alternative transportation methods to get to and from work. The utilization of BEAT is a great way to save money and protect our environment. It's incentive-based, so the more you participate, the more you earn.
If you are interested in being part of the May in Motion team or just want more information regarding the BEAT program, please email me at cbudak@cityofboise.org
We will also continue to connect through Virgin Pulse, so be on the lookout for more challenges throughout the year. There are only a few days left to earn the points needed to reach your first quarter incentives. Here are some ways you can earn more points if you're not quite there yet.
It has been great connecting this month, but we must continue to move forward. Our April Wheel of Wellbeing topic is Meaning.
Stay Well,
Cory Budak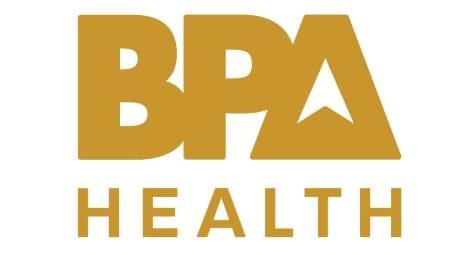 Connecting with the Employee Assistance Program
EAP is an initialism that you hear when benefits are discussed, but what does the Employee Assistance Program truly provide? This week will be connecting with some essential functions of EAP as well as some lesser-known resources.
BPA Health provides our EAP benefits and can be accessed by using our specific login credentials.
Employer Name: City of Boise
Toll-Free Number: 1-800-726-0003
Once you have logged on, you can go in two directions. The first is a search for a counseling provider that will suit your specific needs. This search is the essential function of your EAP benefits. It provides you a confidential avenue to find the help you need when you need it. You can search for providers that identify with your specific needs. This list includes but is not limited to anger management, depression, domestic abuse, addiction, veteran services, and weight loss. These benefits are not just for you but also your dependents. I encourage all employees to familiarize themselves with these benefits, even if they are not currently in need of them.
The second direction is work-life resources. When you decide to go down this path, you will have access to many topics that can help you find a balance between work and life. These topics include resources in parenting, aging, balancing, thriving, working, and living. Each category has a multitude of resource topics from which to choose.
For example, the aging category can help you understand age-related questions for yourself or someone you love. You may have an aging parent who may need more assistance than they used to or may have a hard time accepting that they are no longer safe to live alone. Situations like these are never something we want to think about, let alone have, but should you be experiencing them, these resources are fantastic to have at your fingertips. I again encourage you to familiarize yourself with this side of your EAP benefits. A proactive mindset is essential to our wellbeing.
One last note about your EAP benefits is that they are now more accessible than ever. The pandemic has expedited the need for virtual and telecommunications, and BPA Health has evolved to provide it. You can now request access to an EAP provider entirely online, as well as conducting your sessions with them over the phone.
If you have any questions regarding your EAP benefits, feel free to connect with me at cbudak@cityofboise.org.
Stay Well,
Cory Budak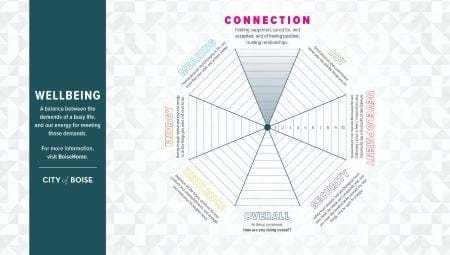 "You are experiencing a connection issue." A phrase that might sound familiar if you have been working from home for the last year. Poor internet quality may be a frustrating circumstance. Still, it doesn't compare to the genuine feeling of being disconnected from others due to the pandemic. No matter our own life's circumstances, a connection can be hard to come by at the moment. So what a better time than now to highlight how we can connect as City of Boise employees.
Connection is the experience of feeling supported and cared for. It is the feeling of being accepted and having positive, trusting relationships.
We will dig deep into connection as the month continues. For now, I would like to highlight the current wellbeing resources available if you are feeling disconnected.
The first resource is the hub of the Wellbeing Program, Virgin Pulse. Virgin Pulse is not only a great way to build and track healthy habits, but it is also a fantastic place to connect. Adding co-workers as friends and creating challenges are great ways to share an experience. In the spirit of connecting, I have created a month-long step challenge in Virgin Pulse. Throughout the month, I will also be posting tips and other information that can only be seen if you participate in the challenge.
Please click here to join: Virgin Pulse - Featured Challenge
Our second resource is our Employee Assistance Program or EAP. You may have no issue connecting when it comes to your work-life. As some employees have the option to work from home, many others have not. Your day-to-day work may not have changed much, but it's almost a certainty that your personal life has. Our EAP program can be just the connection you need to help with whatever changes you are experiencing. Whether you seek mental health assistance, financial guidance, or just need a bill of sale for a dog, the EAP is your go-to.
The final resource is the Boise Employee Alternative Transportation program, or BEAT. You might ask yourself how connection is tied into this one? Well, the BEAT program provides ways to join in a community of people that are actively working to lower their carbon footprint, exercise more and save some money. If nothing else, it can be a great way to ease the stress of where you are going to park your car.
I look forward to connecting with you all month long and, as always, stay well.
Cory Budak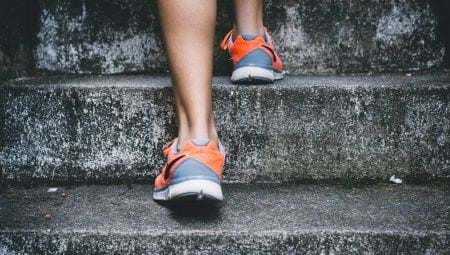 This month we have discussed why resilience is essential to our wellbeing, how we can utilize our experiences to continually build on it, and what resources we have as City of Boise employees. As February comes to a close, so does our emphasis on the topic, but I would like to leave you with one last task. Take this "How Resilient Are You" quiz.
The quiz will provide you with a solid understanding of where you are and some areas you can work on.
Uncertainty is still the name of the game in 2021, and with that, our next Wheel of Wellbeing topic will be connection.
Even amid the pandemic, we can find ways to feel connected to each other and our community. To help embrace that connection, I encourage you to register for the Virgin Pulse Citywide U.S. National Parks Step Challenge. The challenge starts March 1st, so log in to Virgin Pulse to learn more and build your team.
Stay Well,
Cory Budak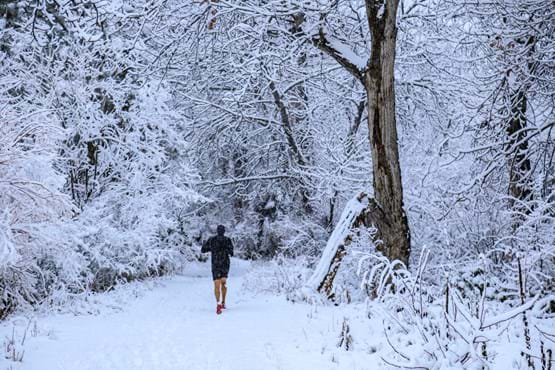 We are in this together! A phrase that is said often but very rarely offers context. What is this? How are we together? In February, we're focused on highlighting our general resilience. Today we focus on the specific. The City of Boise provides incredible resources for its employees, but the best resource we have is each other. As we continue to work through the pandemic, it can be more challenging than ever to feel connected.
What the Health! is here to guide you to that connection.
This week is a challenge to share and connect with your peers. We all have access to the Citywide Microsoft Teams page, a great place to embrace our unique resilience.
This is a two-part challenge; the first part is to share how you have been resilient over the last year and how you have persevered. If you don't feel comfortable sharing, engage with those who do.
The second part is to answer the question: what have you learned from this experience that you want to carry forward?
This is not an easy challenge, so I will provide my resilience story to get things started.
March of 2020 was the start of a crazy time for us all, and unfortunately for me, I was laid off from a previous job. During my layoff, I had the misfortune of experiencing some significant health issues. There were many tough days during the year and times I felt buried. At first, I had a victim mentality and was angry that these two things I had no fault in impacted my life. After a while, I started to focus on what I could control, and not everything worked out perfectly along the way, but things slowly got better. Fast forward to today and, I have resolved my health issues and found a job that provides me with more security than before. I have learned to let go of the circumstances that I have no control over and chip away at the ones I do. I know the future holds many more challenges. I will carry forward my ability to prioritize where my energy goes and only stress about the things I can directly impact.
Resilience is a learning experience, so please head over to the Citywide Wellbeing Microsoft Teams page to share what you have learned with others.
Stay Well,
Cory Budak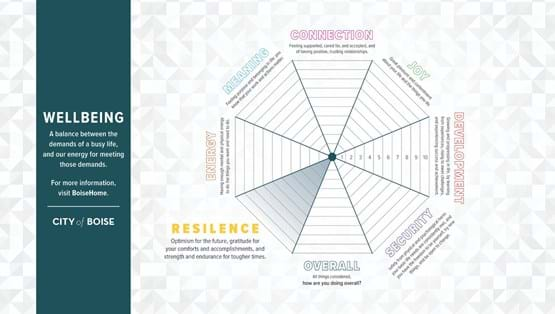 Are you resilient? The answer is yes! Now, let us take a closer look. We define resilience as optimism for the future, gratitude for your comforts and accomplishments, and strength and endurance for more challenging times.
Now let us look at the elephant in the room, the current worldwide pandemic. It can be considered the most challenging period of our lifetime. Almost one year in, and we have all shown the ability to be resilient. We have been asked to change our lives and lookout for the best interest of others. We have been asked to work from home, homeschool our kids, limit our social lives, and we can now see some light at the end of the tunnel. That is our optimism for the future. It may not be perfect, but we are getting closer to having normalcy and have fought through the chaos. We have endured this challenging time, and though no one would ever want to be put through this again, you know you have the strength should that ever be the case. We are resilient.
Being resilient doesn't mean things don't suck. It doesn't mean you can't ask for help, and it doesn't mean you will always feel like being resilient. Every day will present new challenges. I am here to help provide you with some excellent resources to empower you. Being resilient means you understand when the pressure is too much. Here are some ways to help with those pressures.
The Whil program located within Virgin Pulse is an excellent asset for City of Boise employees. Whil provides avenues to address your mental wellbeing. Just think about this, if you could control your thoughts, your emotions, and your mental state, how much better would your life get? How much stress would disappear? Now, these skills may seem impossible, but they are not. They take practice and application. Start your journey to a low-stress life.
Maybe finding mental health and wellbeing alone is not a task you feel comfortable with right now. This is where our Employee Assistance Program comes in clutch. With EAP, you have access to counseling services that can help with whatever obstacles are being put in front of you. Whether they are related to your personal relationships, work-life balance, or finances, EAP can help. Learn more about EAP.
The conclusion of this is a challenge. A challenge for you to reflect on the year that was and now understand where you are. It is a challenge to think about the times you didn't know you would be able to overcome but somehow found a way. We are now resilient in a way we could not even imagine last February, now think where you want to be, come the next one.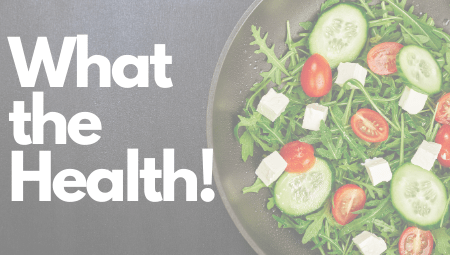 Welcome to 'What the Health', your go-to for all things City of Boise employee wellbeing. I want to start by saying good riddance to 2020 and welcome to 2021. 2020 was a year that changed the course of history. It also created challenges that directly impacted and complicated our lives. My hope is that as we continue to battle the complications of 2020, you will utilize this as a resource to not only fight those challenges but win the war of wellbeing.
With that, let me introduce myself. My name is Cory Budak, the new City of Boise Wellbeing Program Specialist. I have worked in nearly every modality of health and wellness over the past ten years, from cardiopulmonary rehabilitation and personal training to mental health resource coordination. I have a great understanding of what makes people feel well, but more importantly, a sense of what makes them feel unwell. I am here to be a resource for you!
The uncertainty in which this year has started is something you cannot directly control, so let us focus on what we can control. Every month we are going to focus on a topic from the Wellbeing Wheel. The Wellbeing Wheel is a holistic tool we utilize to evaluate our overall feeling of wellbeing. The wheel can be found on the BoiseHome Wellbeing page. There are seven focuses of the wheel; connection, joy, meaning, development, energy, security, and resilience, leading to our overall feeling of wellbeing. I encourage you to take the assessment and evaluate your current level of wellbeing. Our first focus of 2021 is resilience. Please tune in next week to hear more about what resilience is and how to build it. I will also be highlighting all the benefits and resources of the Wellbeing Program related to our month's focus.
As I stated before, I am here for you. To listen, to answer questions, and to provide you a path to health and wellness. Please stay on the lookout for additional resources coming shortly. I am thrilled to have this opportunity and look forward to our future together.
Stay Well,
Cory Budak